Nalgene MF75 Bottle Top Vacuum Filters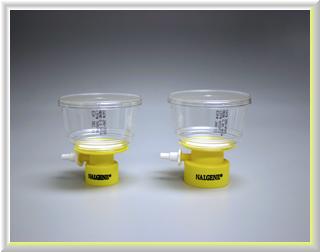 SFCA (surfactant-free cellulose acetate) membrane filters are much cleaner than standard cellulose acetate and are designed for vacuum filtration with glass media bottles. Use the Nalgene MF75 Bottle Top Vacuum Filter 0.2µm size for sterilization of aqueous solutions and culture media. Select the Nalgene MF75 Bottle Top Vacuum Filter 0.45µm size for particle analysis, scintillation counting, prefiltration of aqueous solutions, and general cytology. Polystyrene bottle-top design features molded graduations and a support plate that minimizes foaming and eliminates the need for a separate filter pad. The Nalgene MF75 Bottle Top Vacuum Filter screws directly onto media bottles. Yellow collar Nalgene filter cup is labeled with lot number, catalog number, pore size, and expiration date. Certified radiation-sterilized, nonpyrogenic, and noncytotoxic. The quick-disconnect sidearm accepts 1/4–3/8" tubing.
DOWNLOAD NALGENE CATALOG WITH PRICING: CLICK HERE
Purchase Nalgene Bottle Top Filters from Voigt Global. We sell Nalgene Bottle Top Filters to the scientific communities worldwide. Nalgene Bottle Top Filters may be available in an alternate sale unit size: Click here! We offer complete Nalgene Bottle Top Filter specifications upon request. Discounts on Nalgene Bottle Top Filters for resale and bulk orders are available.
Pore Size, µm
Capacity, mL
Diameter, mm
Neck Size, mm
NNI No.
Unit
0.2
150
50
33
290-3320
Case of 12
0.2
150
50
45
290-4520
Case of 12
0.2
500
75
33
291-3320
Case of 12
0.2
500
75
45
291-4520
Case of 12
0.2
1000
90
33
292-3320
Case of 12
0.2
1000
90
45
292-4520
Case of 12
0.45
150
50
33
290-3345
Case of 12
0.45
150
50
45
290-4545
Case of 12
0.45
500
75
33
291-3345
Case of 12
0.45
500
75
45
291-4545
Case of 12
Glass Prefilters
For 50 mm Diameter Membranes
—
—
DS0281-5000
Case of 100
For 75 mm Diameter Membranes
—
—
DS0281-7500
Case of 100
For 90 mm Diameter Membranes
—
—
DS0281-9000
Case of 100
Nalgene MF75 Bottle-Top Vacuum Filters, Nalene Bottle Filters, Nalgene Bottle Top Filters, Nalgene MF75, Nalgene Nalgene Surfactant Free, 290-3320, 290-4520, 291-3320, 291-4520, 292-3320, 292-4520, 290-3345, 290-4545, 291-3345, 291-4545, DS0281-5000, DS0281-7500, DS0281-9000