Chemistry Laboratory Glassware Kits
Do you need fine chemicals to order with your chemistry glassware set? CLICK HERE
.
.
Kimble Kimax Glassware dealer discount prices given on this and all Kimble Kimax glassware orders over $1,000 USD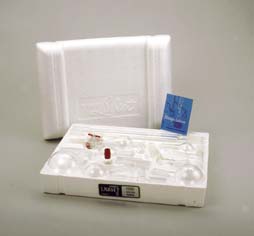 KIMAX® Chemistry Glassware Kit (24/40 joint) This complete basic kit is supplied in a polyethylene case (19 1/8" x 14" x 5" ) which houses each item in a separate compartment. The components of kit are interchangeable with PYREX® & KIMAX® brand apparatus of the same joint size (24/40). High versatility of components allow for a wide variety of standard experimentation procedures, including: distillation, reaction with gas evolution, preparation and recovery, simple reflux, reflux with addition, fractional distillation and vacuum distillation. Complete kit consists of one (1) each of the following components:
Article No. Description
18190-300 Condenser, West, 300 mm, 24/40
21805-300 Distilling Column, 300 mm, 24/40
25285-50 Flask, Round Bottom, Single Neck, 50 mL
25285-100 Flask, Round Bottom, Single Neck, 100 mL
25285-200 Flask, Round Bottom, Single Neck, 200 mL
25324-300 Flask, Round Bottom, Short Neck, 24/40, 300 mL
29057F-125 Funnel, Separatory, 125 mL, 24/40 Joint
41890R-2440 Stopper, Glass, Hollow, 24/40 (2 Per Labset)
44870-2440 Tube, Adapter, Thermometer, 24/40 Joint
44870R-99 Neoprene Fitment
44990-2440 Tube, Connecting, Claisen, 24/40 Joints
44993-2440 Tube, Connecting, Three-Way, 24/40 Joints
45005-2440 Tube, Connecting, Vacuum, 24/40 Joint
Complete Kit Item No. 33820-99: $700.00
NOTICE: WE OFFER ALL KIMBLE GLASSWARE KIMAX LABORATORY GLASSWARE AT DISCOUNT PRICES. If you are planning a large order ( > $1,000.00 USD), or if you are located outside the USA, please ask for our 2008-2009 spreadsheet to be sent to you via e-mail.
kimble glassware,kimax glassware, laboratory glassware, condenser, Kimax, corning glassware, chemistry glassware, distillation glassware, laboratory glassware